Rocket Mortgage has an inspiring story of how they continue to transform the mortgage and home industry. As an online company, their website is critical for success. This copywriting audit of Rocket Mortgage explores its existing website and how it could be improved.
Overall, the website is designed and written very well. It's effective and encourages visitors to perform an action. That's a great sign for a website. But we can always improve and make things better.
Issues I noticed:
Awkward commas that aren't necessary
Wordy sentences that could be condensed
More references to features rather than benefits
An emphasis on the "we" and brand rather than the customer
Through this audit and analysis of the Home Page, I've developed edits that can improve RocketMortgage.com.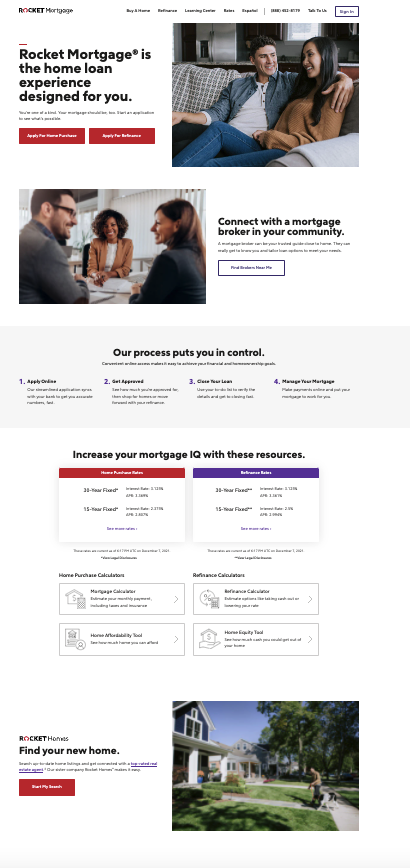 Rocket Mortgage Home Banner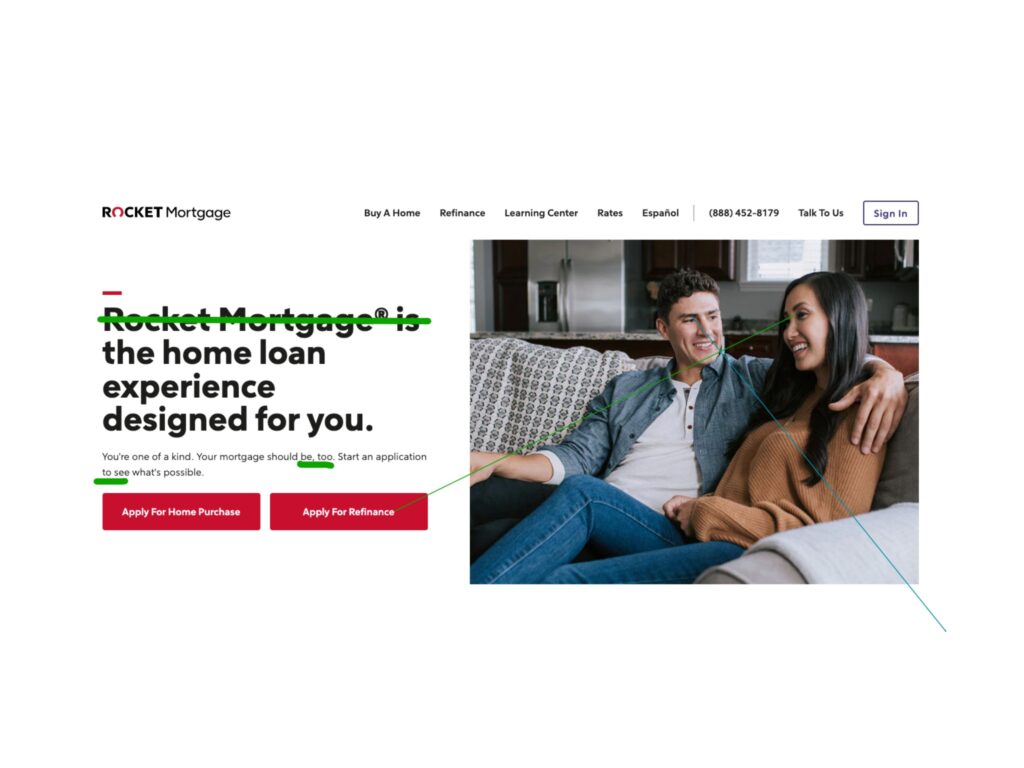 The header includes the name "Rocket Mortgage" when the site already names it in the logo above. This is redundant and it takes away from connecting emotionally and personally with the customer.
Customers want to know how they will reach their goals, not who can do it for them. We want to embed ourselves into their story. We know what you want and we can help you get there. They are the hero. We are only a guide.
I suggest removing Rocket Mortgage and instead state:
"The Home Loan Experience Designed for You."
It resonates more and it's more confident for visitors to see.
Right under it, we see the subtitle: "You're one of a kind. Your mortgage should be, too. Start an application to see what's possible."
The comma between "you, too" is for emphasis but is grammatically questionable. By removing it, the statement is more confident. Also, replacing "to" in "application to see" with "and" is more direct and shows clear cause and effect.
"You're one of a kind. Your mortgage should be too. Start an application and see what's possible."
Also, noting the picture in the header: while I am not a designer, I noticed the eyes are pointing in different directions. If the male partner was on the other side, looking at his partner, all eyes would face left. Their eyes would point to the buttons, encouraging action.
Section: "Connect with Mortgage Broker"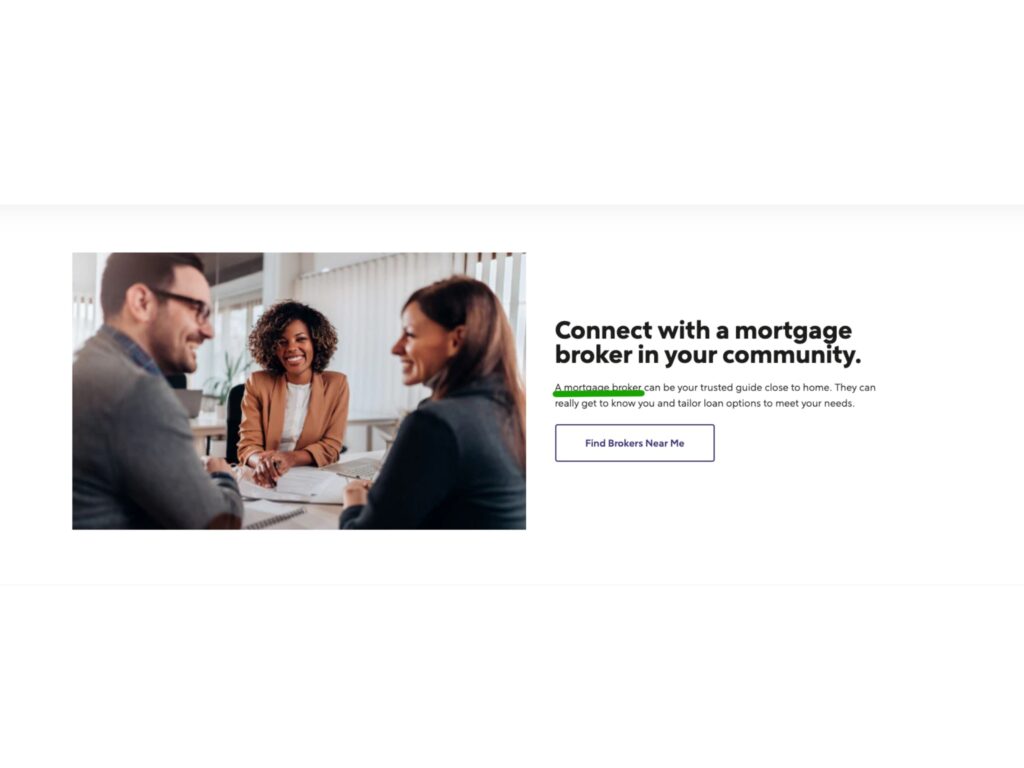 "A mortgage broker can be your trusted guide close to home. They can really get to know you and tailor loan options to meet your needs."
We can reword the subtitle to address the visitors personally and give a sense of ownership. Instead of "A mortgage broker" we tell them about THEIR mortgage broker.
Also, we can remove "can" in "They can get to know…" since it is unnecessary.
"Your mortgage broker can be a trusted guide close to home. They get to know you and tailor loan options to meet your needs."
Section: "Our Process Puts You in Control"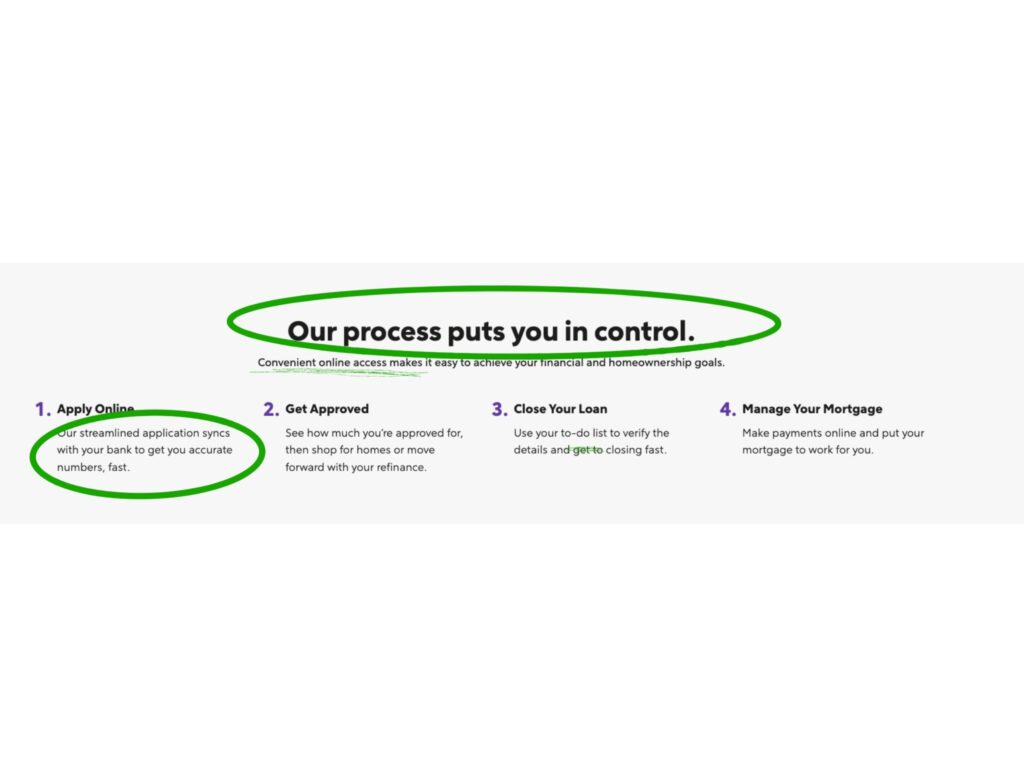 The heading, "Our process puts you in control" emphasizes Rocket Mortgage, not the visitors' needs. We can reword it to write ourselves in the story and put the benefit first (plus, we can simplify it for a more memorable statement).
"Control the process."
In the subtitle, we can highlight the benefit of convenient online access first.
"Meet your financial and homeownership goals through convenient online access."
Number One (List): The description of Apply Online emphasizes "our streamlined application". We flip it to focus again on the visitor.
"Get accurate numbers fast with our streamlined application that syncs with your bank."
Number Three (List): For Close Your Loan, "…and get to closing fast" sounds a little strange and vague. We simplify it with fewer words and add more confidence.
"Use your to-do list to verify the details and start closing fast."
Section: "Mortgage rates are low…"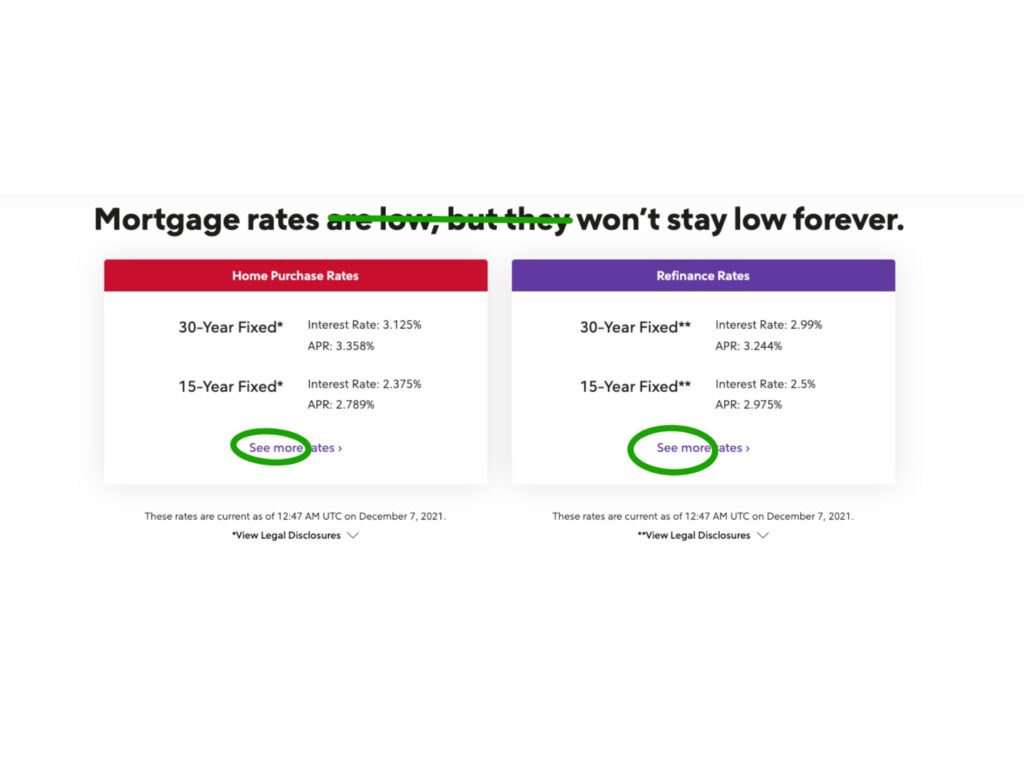 The heading is wordy and can be simplified and more effective. We don't need to state that rates are low because it is already implied in the second half of the line. I imagine we want to put weight on the urgency component. We can reword it to simplify it and make it more effective.
"Mortgage rates won't stay low forever."
Buttons: "See more rates" can be rephrased to encourage visitors to discover their possibilities on their own. Using a word like "Explore" encourages them to dig deeper.
"Explore rates"
Calculator Section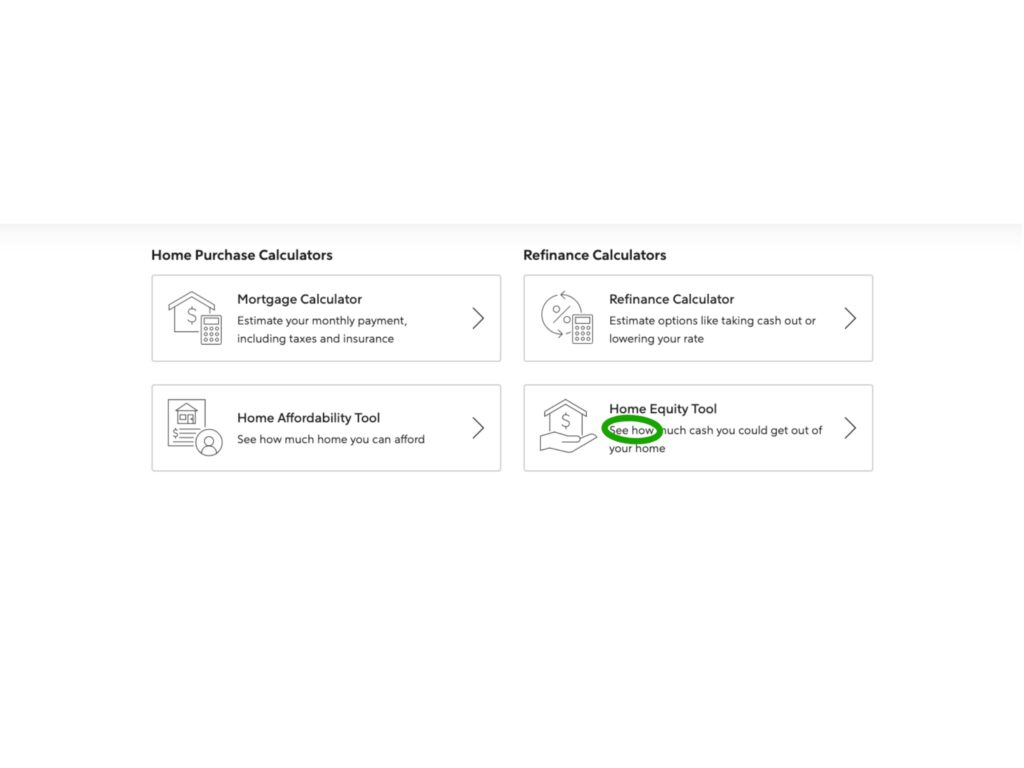 Home Equity Tool: "See how much" in the description has already been used. I also notice "See how," "See more," et al. is used often. To avoid redundancy and to retain the attention of visitors, we can rephrase it. Using "Discover" will solve that and add encouragement for visitors to keep exploring and invest in choosing Rocket Mortgage.
"Discover how much you could get out of your home."
Section: "From Experiencing…"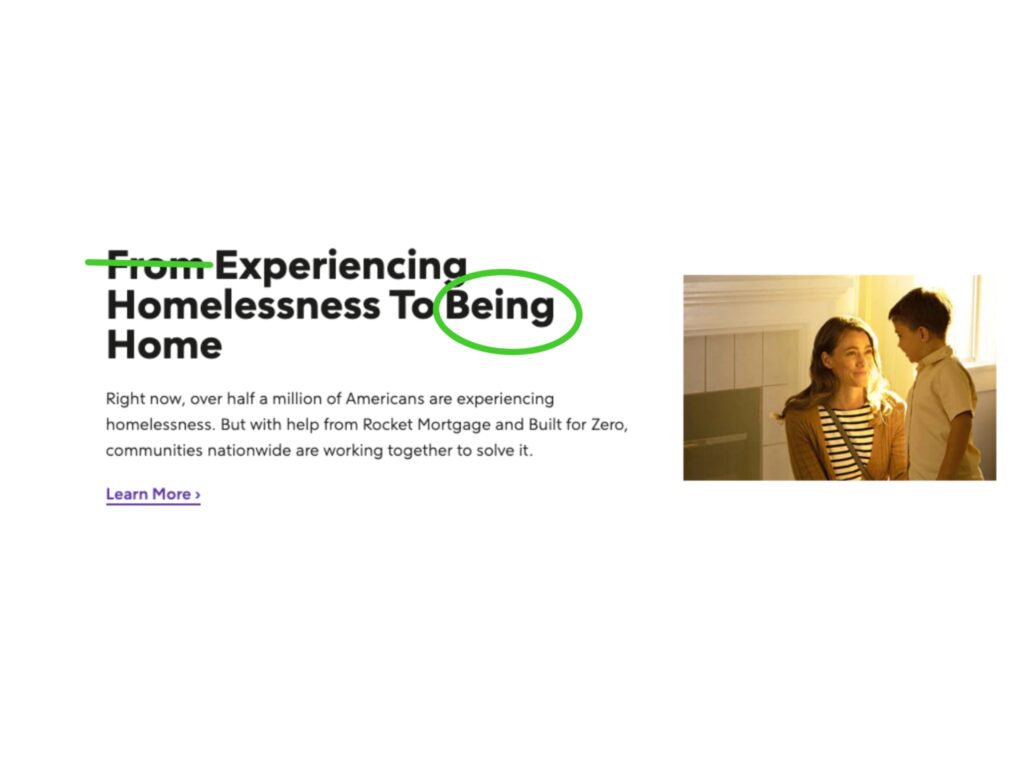 This section is great and adds purpose to the brand. We can consider simplifying it and adding emotion.
"From Homelessness to Finding Home"
Section: "We pioneered online…"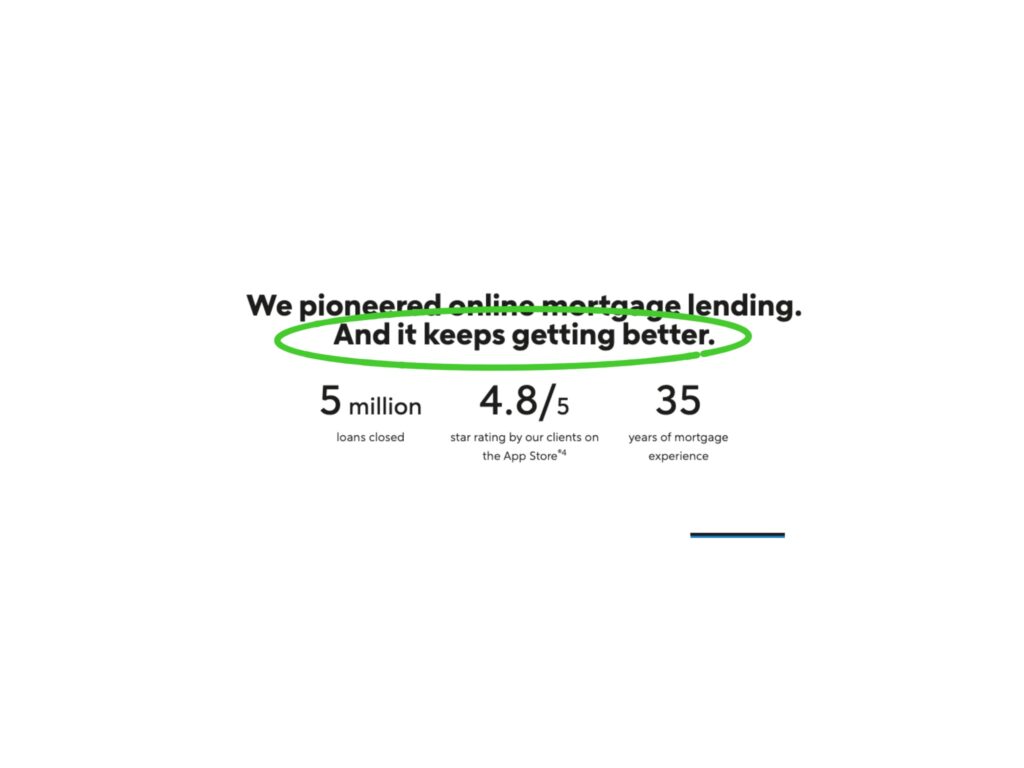 The heading is a strong and effective statement. The line that follows it "And it keeps getting better" doesn't reflect a pioneering, industry-shattering brand that's forging the way. Consider adding more depth.
"We pioneered online mortgage lending.

And we're forging a better way."
When I presented this version to my network on Twitter, one friend had another great suggestion that I like even better:
"We pioneered online mortgage lending.

And we're not done."

— Josh ⏳ (@JoshMcKain) December 9, 2021
Section: "Expert Advice…"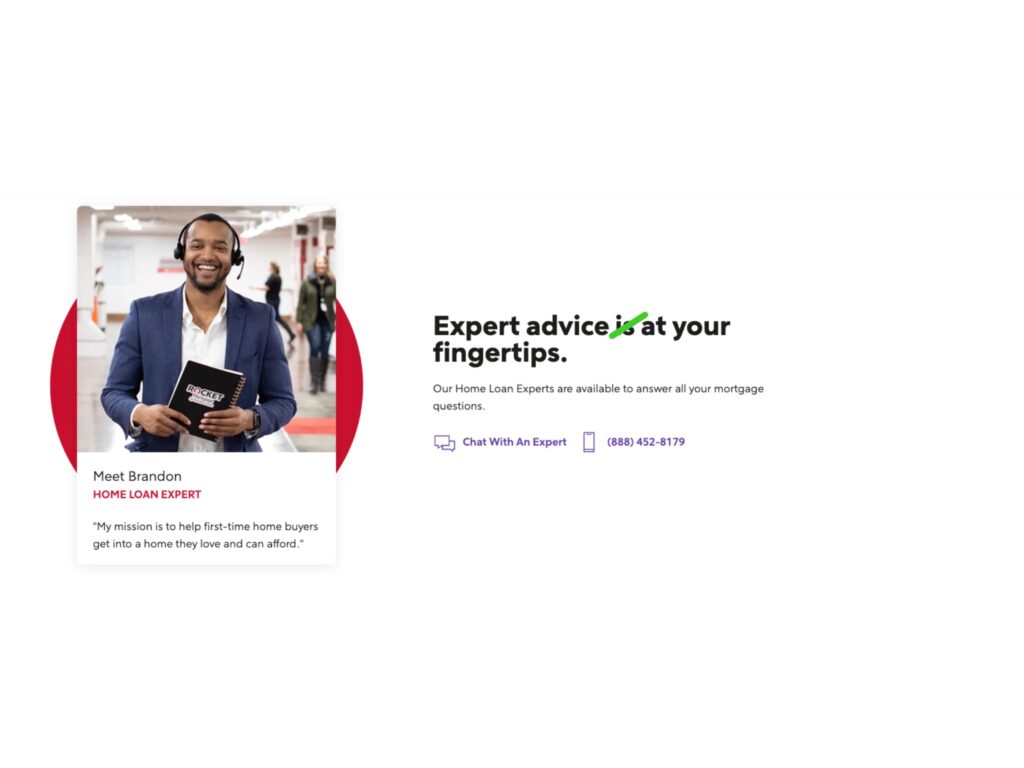 For the header, we can remove "is" for simplicity and effectiveness.
"Expert advice at your fingertips."
Section: "Get Started Now…"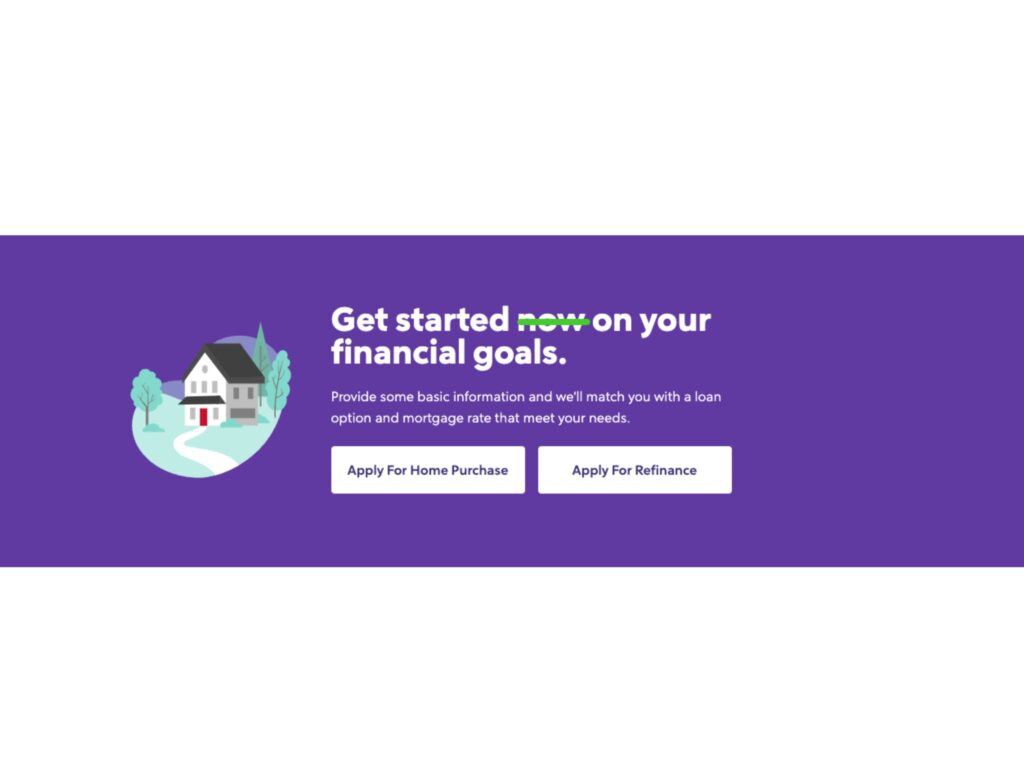 In the header, the line is invoking a sense of action using the words "started" and "now" but together they seem redundant, wordy, and distracting. We can consider rewording it while maintaining the integrity of the call to action.
"Get started on your financial goals"
OR
"Start your financial goals today."
Copywriting Audit Overview
Rocket Mortgage has a great website. This audit includes possible improvements we can make to the website copy so we can engage more visitors and promote them to action.
Copywriting audits are a great way to measure the current state of your website and improve it for better results. If you are interested in a customized audit of your website, contact me.
---
What others are saying about this audit
All this copy advice is 100% spot-on, John Paul 👌

Clarity, simplicity, "whats-in-it-for-them" are all vital and make a HUGE difference.

Your examples simplify the process. Fantastic!

— 🟣Samantha | Mindset + Growth (@samanthademers) December 9, 2021
Simple copy changes, but they make perfect sense.

Great work John🚀🚀 https://t.co/e3QZHMuDhl

— Darren Matthews (@Darrenmmatthews) December 9, 2021