LinkedIn is a powerful platform to promote your brand, network, and generate new business. However, while there are many active users, few of them create content. So when you and your company create a strategy for consistent content, you already have an advantage.
But if you're like most people, it gets more challenging to produce content over time. You've already repeated the same things and feel like you have nothing new to say.
We can generate fresh content for LinkedIn by repurposing existing content.
When you publish an article, not everyone will see it. It goes to waste when you share it and forget about it. Not only should you republish it later, but you can generate 40+ pieces of content quickly by following the proper steps.
Here are some ways I've helped repurpose content for clients and how you can too.
Break it Up
The first thing you should do after publishing an article is break up each piece of content for individual publications.
For example, let's say your article has five points plus an introduction and conclusion. That's easily 5-7 ideas you can publish on LinkedIn.
You can copy and edit a section on LinkedIn for a short, clear read.
In an article I wrote that focuses on storytelling by Marvel, I can focus on each point and create content focusing on that topic. It can be an original or an edited version of what I wrote.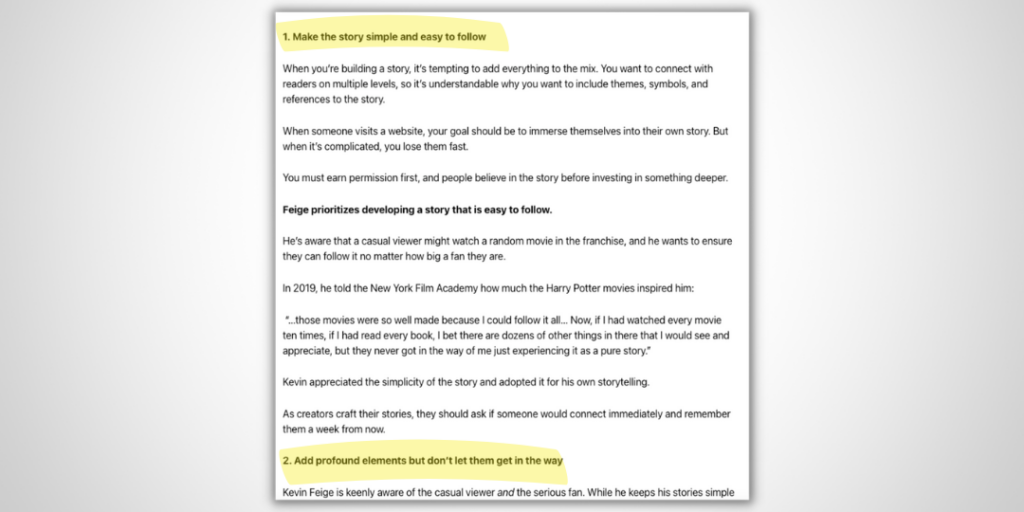 The first point talks about making a story simple and easy to follow. For example, I can use an excerpt like:
"When building a story, it's tempting to add everything to the mix. You want to connect readers on multiple levels. But when it's complicated, you lose website visitors fast."
Then I can add a new section to offer value:
"Ways you can simplify your brand story:
Identify the hero
Clarify the problem
Show the roadmap to solve it
Highlight the transformation
Focus only on these points. Then, as you win your customer over, you can add more layers to the story."
I used this version and revised it even more: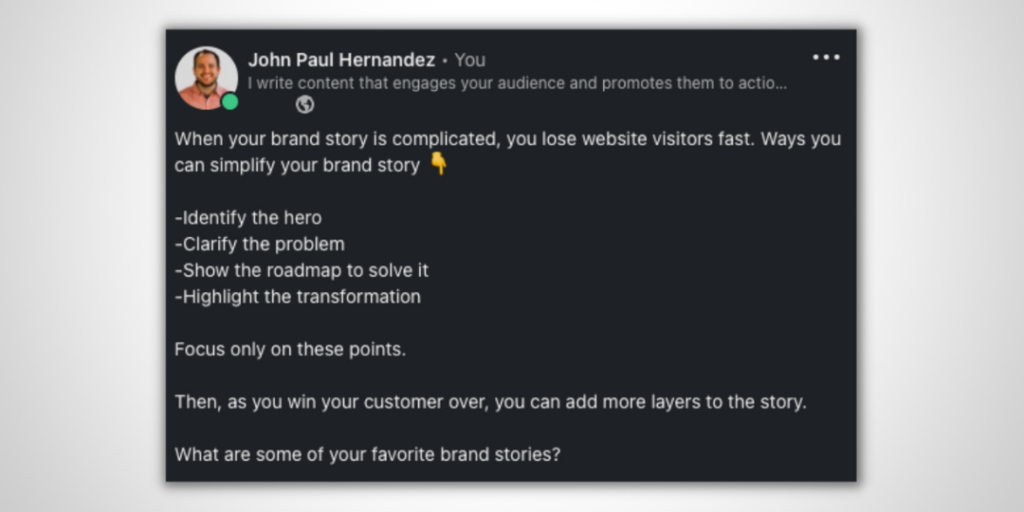 If you repurpose each article's point like this, you can turn one piece of content into several.
Create Original Content By Theme
Another way to repurpose your LinkedIn article is by focusing on the theme rather than the words.
For example, in my last example about simplifying a story, I can create a piece highlighting five film masterpieces and why they are successful because of their simplicity.
Repurposing content with themes is a great way to spark new ideas. And once you create content for it, you can repurpose it too. If it's popular, you know you can create a valuable article on it and develop other spin-off versions over time.
Answer from Comments
There's no better source for content ideas than your audience. It's a tested and proven source for what's working. When you publish your LinkedIn article, engage with your comments and start mining for repurposing ideas.
In one post I published about auditing landing pages, Jessie asked how one would tackle hesitations when a visitor is on the page. That was a great question I answered right in the comments. But I can also publish my answer as a separate post.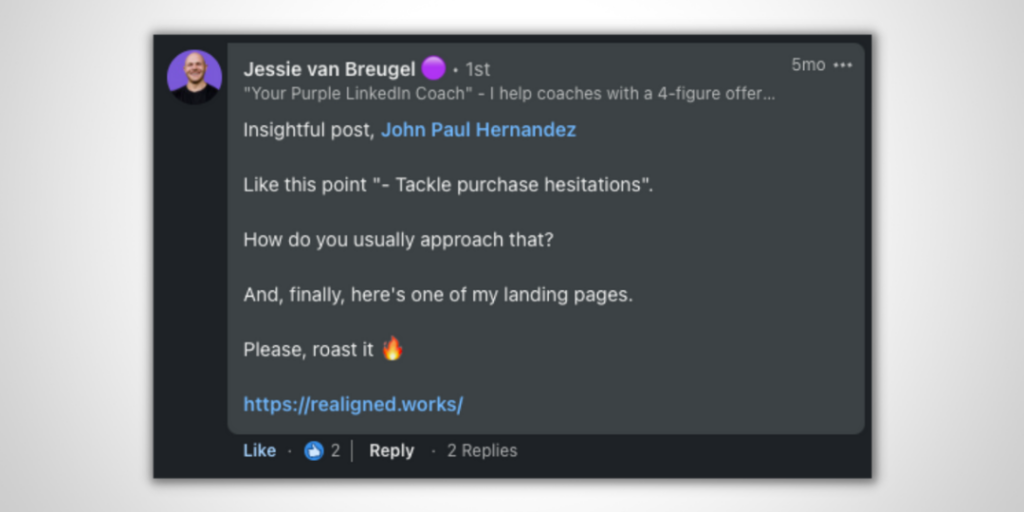 There are a few ways to do it. I can screenshot the question and answer it in a post. Or, I can natively write the question and answer it. Or, my favorite, I can write an original post offering tips and value on that question.
Create Visuals
Not everyone consumes content the same way—post visuals to attract a different audience. Visuals are also a great way to add a fresh new version of your existing content that everyone can enjoy. And if it's the right visual, you can use it to simplify and clarify your current idea.
You can post a slideshow, as Jeremy did below. It highlights a more significant piece of content but shares the main points in a visually stimulating way.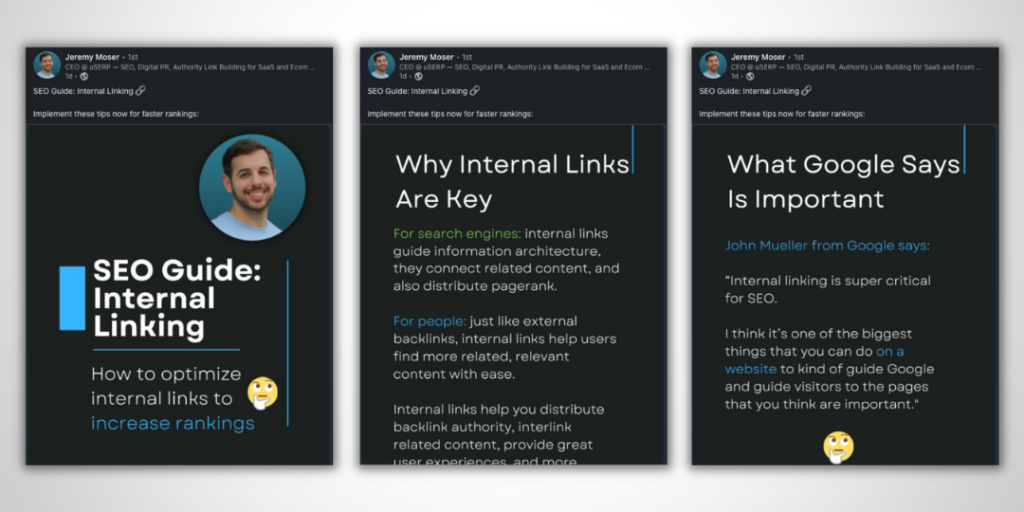 Visuals get the point across, attract more people, and encourage them to learn more. The best part is that they come from content you've already published.
Publish Videos
Creating videos used to be difficult, but now with the resources available, any size team and budget can do it.
You can create more than seven videos in an article! For example, if your article has about five points, create one for each. Also, create a video summarizing the full article. Depending on your introduction or conclusion, you may be able to create a video focused on one tip or idea.
Videos also help get traction on other platforms like Youtube or through Google's video search results.
List the Key Points
Once you've exhausted most repurposing options, publish a post listing the critical points of your original article.
For example, if you published an article about capturing leads for your business, your repurposing content focused on each element of that article. But now, your list can have a quick introduction, listing each point.
Finally, you can encourage readers to check out the original article.
Write Articles Based on Each Point
Most articles can get deeper. Once you've hooked an audience through dozens of pieces of content based on one article, you can explore the most popular points and create more in-depth articles.
When you write an article based on a previous point, you restart the repurposing cycle and can create dozens of more pieces.
Publish it Again
Remember, many people will not see your article the first time. And those that read it will likely forget they did or forget essential points. Add a day to your calendar and publish the article again.
Write a new introduction to your post to refresh it.
Eventually, update your article, so it's always relevant.
Contact Me if you're interested in a ghostwriter for your LinkedIn account.